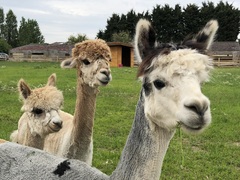 Meet The Alpacas!
Our resident alpacas have arrived!
Nothing really greenhouse related but our new site for our sister company Yorkshire Garden Buildings is nearly ready. Meet our resident Alpacas, Lemmy, Rocky and Sid.
You are welcome to come and meet them if you come through to see the best Greenhouse display in the UK. Just ask one of our staff and I'm sure we will be able to take you next door to say hello.