Displaying 3 of 3 Stories
Archive for: December 2018
We have just moved onto a massive new show site in East Yorkshire. We are more than excited!
We will be open 10 - 2 apart from Bank Holidays and Sunday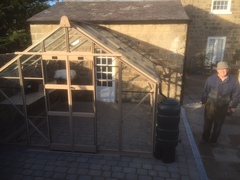 We sell and install many freestanding greenhouses onto soil, concrete, pavers and all manner of bases but we also offer lots of options if you need a greenhouse to go against a wall. These are some we have completed in the last few days and the stories behind them.
Displaying 3 of 3 Stories