Current used stock
Maxim 4' 3" wide x 4' 5' long with toughened glass and in green powder coated finish.
This has become available sadly due to a bereavement. The lady who is selling this will need to be contacted directly and it will need to be dismantled and removed. We will be happy to advise on this or we could dismantle and rebuild for you and the cost would depend on where you are and how we would transport it.
The greenhouse comes complete with 3 slat staging to both sides and an automatic roof opener. To buy this new would cost £1,135 and the customer is looking for just £400 which I think is an absolute bargain. Please also bear in mind that if you wanted a new Elite greenhouse in this colour the waiting list is 30 weeks! If you wish to speak to the seller it is Suzy and her number is 07875 403377. The greenhouse is in Willerby near Hull.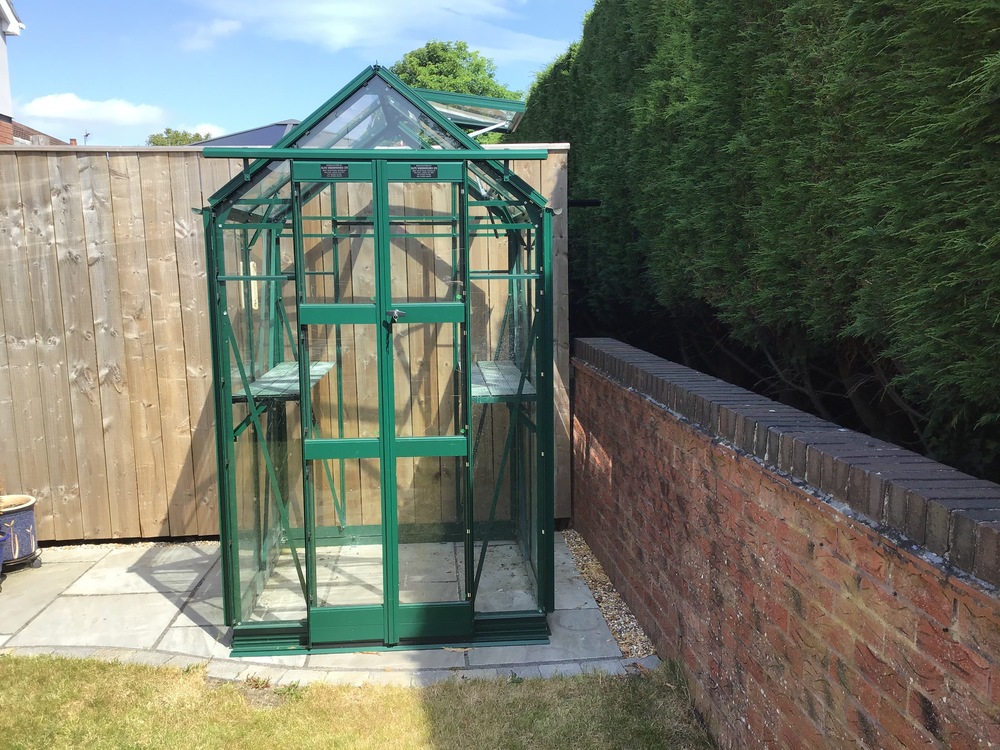 If we have second hand greenhouses available are normally supplied pressure washed although the glass will be supplied dirty, (if we cleaned the glass we would have to almost charge a new price for the greenhouse) you are supplied with everything you need though. If you compare our price for a 100% complete greenhouse against an eBay offering, remembering to add in the new nuts & bolts you will need, new glazing clips, seal, probably door wheels and almost certainly glass you will be surprised how cheap we are. Factor in the day it will take you to dismantle and collect, assuming you have access to a van, and we will be far in front. We deliver your greenhouse in 4 built sections which makes reassembly very straightforward.
It is not really cost effective for us to offer to build second hand greenhouses as it takes quite a while to clean the glass before they can be reassembled. These are ideal though for practical types who want a solid greenhouse at a low price, we try and sell these for around half the price of an equivalent new model.