Ex Demo Juliana Greenhouses
We are thrilled to offer such huge discounts on these two fabulous Juliana greenhouses on show at our garden building centre, come and see them up close and sit down comfortably in them to enjoy a coffee thinking about how the buildings would work for you in your garden;
Juliana Premium 99
Shown here on our site with the Black & Anthracite Powder Coated Finish, fitted with an 8 Blade Louvre, Crestings and Finials & Integral Staging worth a total of almost £3600 available with free delivery locally for only £2800
https://www.elloughton-greenhouses.co.uk/greenhouses/10-and-12-wide/juliana-premium-9-8-wide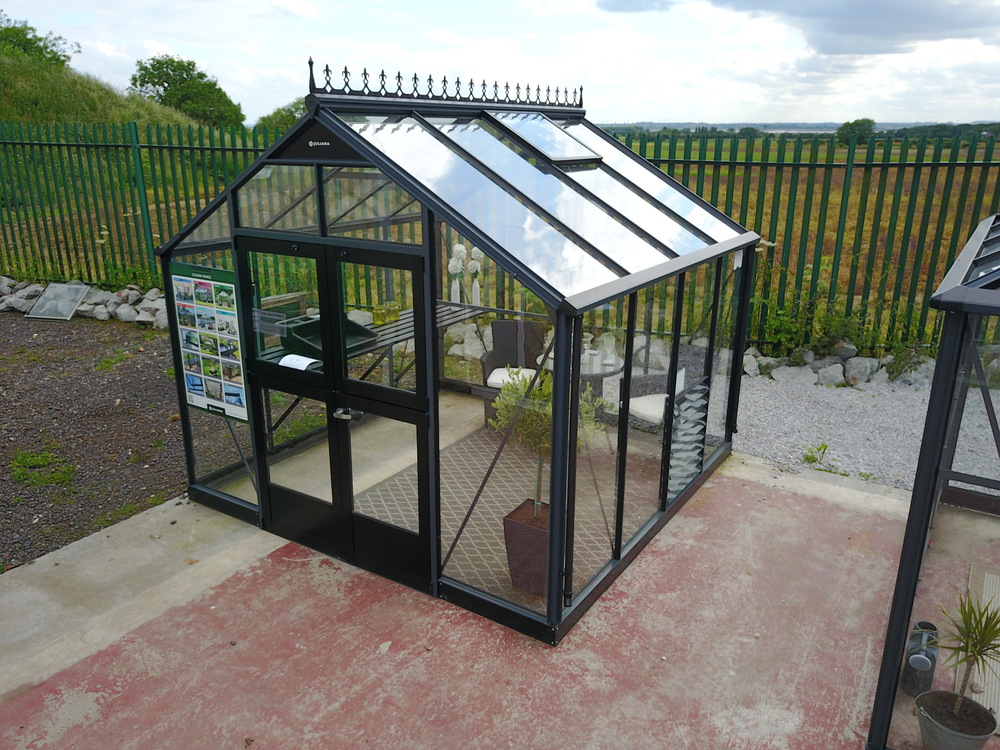 Juliana Oasis 99
On show in Welton next to our Juliana Premium we have the Juliana Oasis garden building, painted in the Anthracite and Black finish and fitted with an automatic vent in the centre of its extraordinary ceiling, this building offers a great deal of greenhouse growing and summerhouse living, retailling at £5249 we are offering our ex display model for only £3995 including free delivery and free installation locally
https://www.elloughton-greenhouses.co.uk/greenhouses/10-and-12-wide/juliana-oasis-99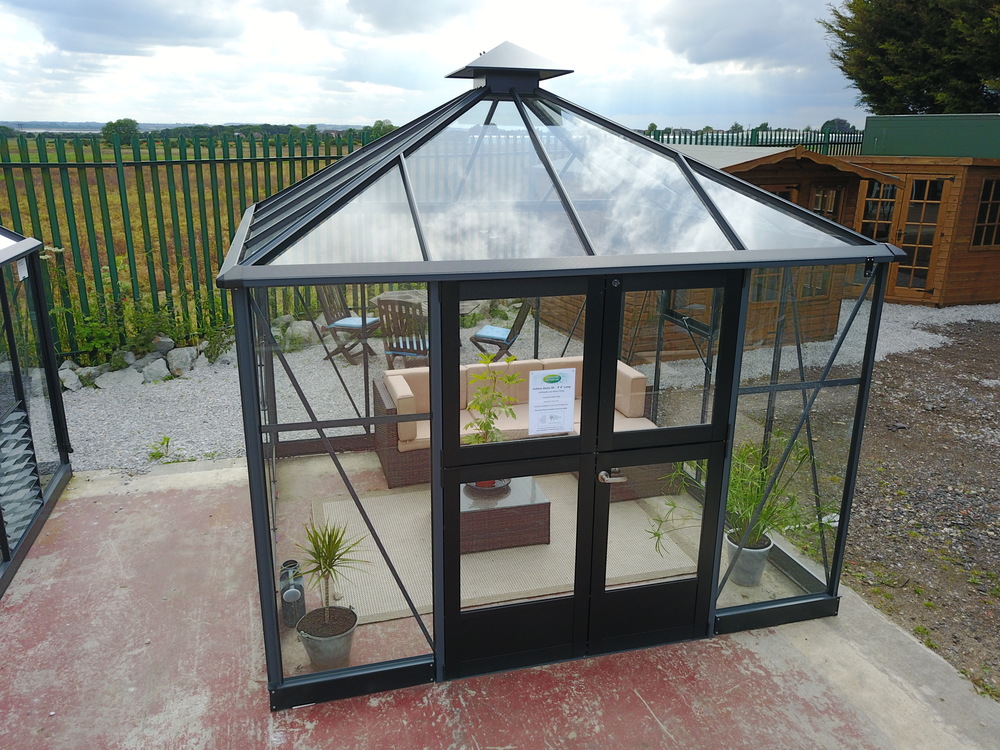 Ex Demo Eden Zero Threshold Greenhouses
Zero Threshold greenhouses can be an excellent choice when mobility may be restricted
Eden Blockley 810
Our Eden Blockley 8 x 10 is on offer for just £1500 with a retail of £1982
With tall, wide double doors witht the zero threshold entrance, long pane toughened safety glass, staging, shelving, rainwater kit and automatic window openers this greenhouse has a great deal of space to grow and relax in
https://www.elloughton-greenhouses.co.uk/greenhouses/7-and-8-wide/eden-blockley-8-5-wide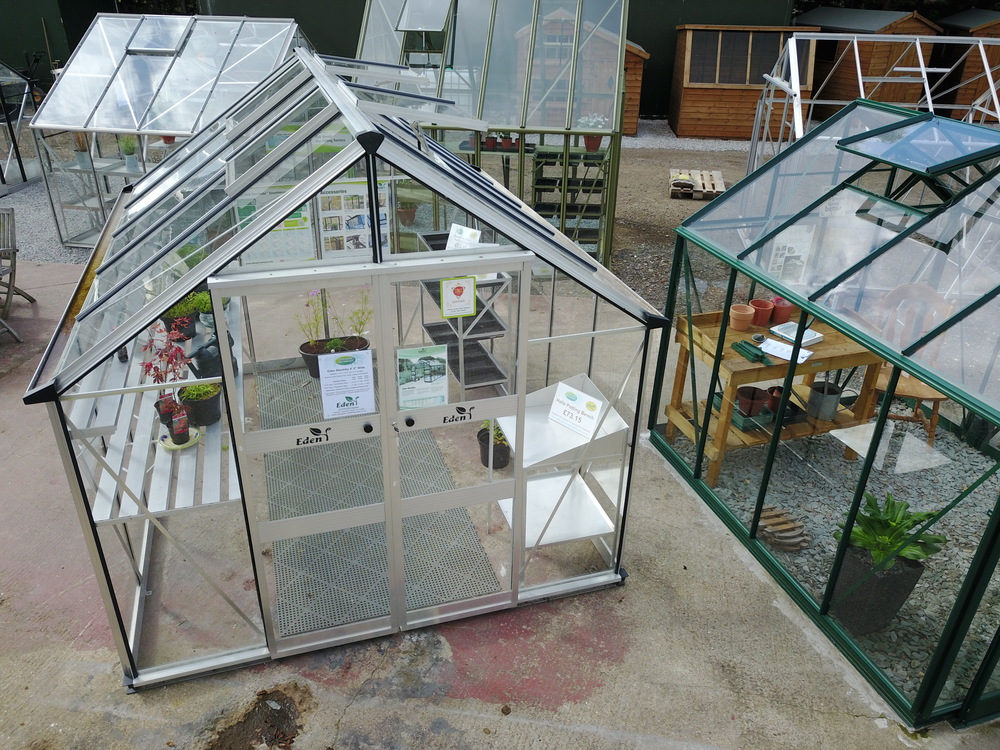 Birdlip 44
We also have our Birdlip 4x4 on offer for £850 discounted from the retail of £1187
A compact greenhouse with high eaves to allow for taller plants and more tiers of shelving, our Ex Demo Birdlip has the green powder coated finish, long pane toughened safety glass, shelving, staging, rainwater kit to feed the 100l barrel on the stand at the back of the greenhouse and the zero threshold double door entrance.
https://www.elloughton-greenhouses.co.uk/greenhouses/4-and-5-wide/eden-birdlip-410
Ex Demo Swallow Greenhouses
Ex demonstration Swallow greenhouses are exceptionally good deals, these offers are costed as supplied and installed, you simply require a professionally laid base/dwarf wall the correct size for the building
8'9 x 12'7 Swallow Raven, to be fitted to a dwarf wall, oiled finish, 2 x high level shelves, extra staging along back wall, 2 extra vents fitted to sides, only £3250
Current used stock
We don't have anything 2nd hand available at the moment unfortunately. We usually have a range of second hand Greenhouses available for collection or local delivery.
They are normally supplied pressure washed although the glass will be supplied dirty, (if we cleaned the glass we would have to almost charge a new price for the greenhouse) you are supplied with everything you need though. If you compare our price for a 100% complete greenhouse against an eBay offering, remembering to add in the new nuts & bolts you will need, new glazing clips, seal, probably door wheels and almost certainly glass you will be surprised how cheap we are. Factor in the day it will take you to dismantle and collect, assuming you have access to a van, and we will be far in front. We deliver your greenhouse in 4 built sections which makes reassembly very straightforward.
It is not really cost effective for us to offer to build second hand greenhouses as it takes quite a while to clean the glass before they can be reassembled. These are ideal though for practical types who want a solid greenhouse at a low price, we try and sell these for around half the price of an equivalent new model.