Ex Demo Juliana Greenhouse -SOLD-
We are thrilled to offer such a huge discount on this fabulous Juliana greenhouse on show at our garden building centre, come and see it close up and sit down comfortably in it to enjoy a coffee thinking about how the building would work for you in your garden;
Juliana Oasis 99 -SOLD-
On show in Welton we have the Juliana Oasis garden building, painted in the Anthracite and Black finish and fitted with an automatic vent in the centre of its extraordinary ceiling, this building offers a great deal of greenhouse growing and summerhouse living, retailing at £5249 we are offering our ex display model for only £3995 including free delivery and free installation locally. If you are particuarly handy and could install this yourself we would be able to deliver the greenhouse in complete sections and negotiate a large discount on this price!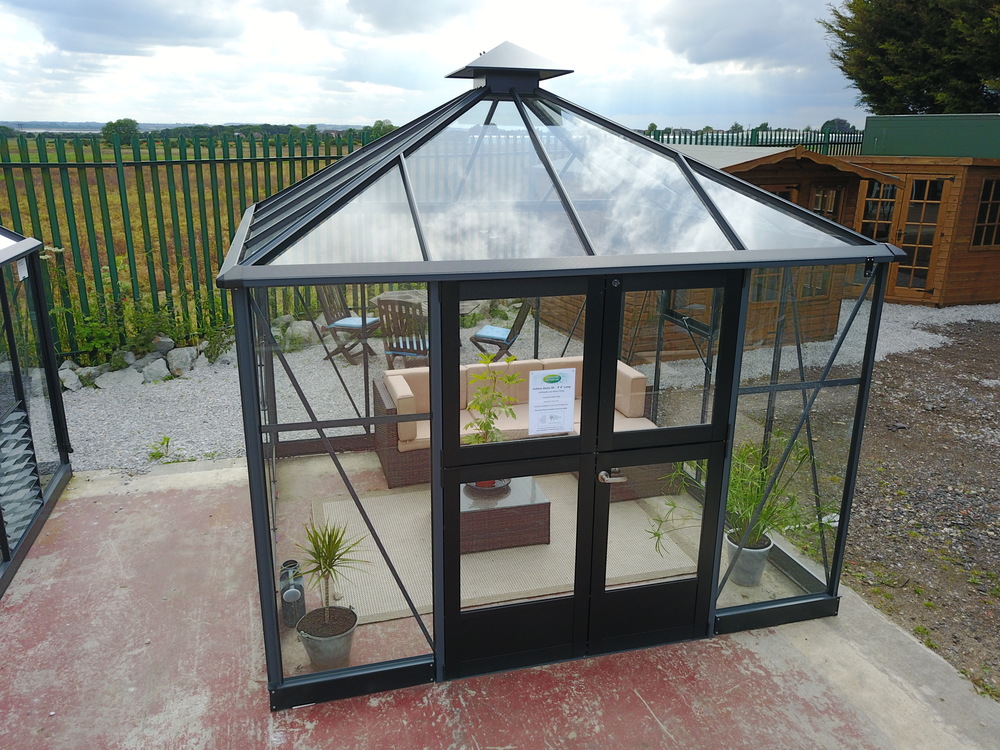 Swallow Greenhouses -SOLD-
The following greenhouse order has been cancelled so it is brand new however it is heavily discounted, if the specifications meet your requirements it is a particularly good deal
6'7 x 16'9 Starling Lean to -SOLD-
Stone Painted Finish (oxford stone)
1x staging included
White guttering system
Double doors on both ends
2x black ornate door handles
Total price should be £5148 Special Price to Clear £4500
Current used stock
We don't have anything 2nd hand available at the moment unfortunately. We occasionaly have a range of second hand Greenhouses available for collection or local delivery.
They are normally supplied pressure washed although the glass will be supplied dirty, (if we cleaned the glass we would have to almost charge a new price for the greenhouse) you are supplied with everything you need though. If you compare our price for a 100% complete greenhouse against an eBay offering, remembering to add in the new nuts & bolts you will need, new glazing clips, seal, probably door wheels and almost certainly glass you will be surprised how cheap we are. Factor in the day it will take you to dismantle and collect, assuming you have access to a van, and we will be far in front. We deliver your greenhouse in 4 built sections which makes reassembly very straightforward.
It is not really cost effective for us to offer to build second hand greenhouses as it takes quite a while to clean the glass before they can be reassembled. These are ideal though for practical types who want a solid greenhouse at a low price, we try and sell these for around half the price of an equivalent new model.